Naughty Nights Press (NNP) is very proud to announce that we have two new releases today and invite you to purchase your own copies at all good ebook stores.
Don't forget that our authors love to have their books reviewed by you the reader. So if you would like to leave a review, we ask that you do so on the NNP eStore site or at Amazon and let others know what you think of the book!
NAUGHTY HOT SHOTS - THE GIRL NEXT DOOR
Genre:
Erotic, Bi-Sexual, MMF, Female Domination, Kink, Light BDSM
Publisher:
Naughty Nights Press
Ebook: All ebook formats
Release Date:
March 2nd 2013
Coming soon to:
Barnes & Noble
| Diesel | Apple Books
What woman could say no to two sexy as hell, bisexual and experimental men asking her to join them? What happens when they want her to dominate them both in their new found sexual games?
Having run from vicious rumors her ex spread about their deviant sex life back home, when Mandy moves into her new apartment she is surprised to so quickly and easily strike up a conversation with the man next door who offers to help her carry in a few boxes.
She is even more surprised, though, when they have her over for dinner, to learn Mike and his roommate, Kyle, have been experimenting with their own sexuality, with each other, and want her to join in on the fun and games.
When given the opportunity to play the dominant in their sexual games, should she take the golden opportunity or just walk away?
STAGED WHISPERS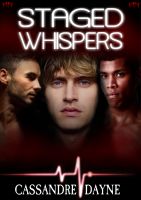 Genre:
Erotic, Ménage, Gay Male,BDSM
Publisher:
Naughty Nights Press
Ebook:
Available in all formats
Release Date: March 2nd 2013
Coming soon to: Apple | Barnes & Noble | Diesel Books
When secrets and tragedy threaten to destroy three lives, will the friends and lovers learn to face their personal demons or succumb to the horror of tragedy?
Cole Dumont, Dylan Wyler and Brandon Foster were old chums who decided just out of college to open Forever Green Lawn. Their business catering to the wealthiest families in Fort Lauderdale, their pristine reputation afforded them every indulgence. Unable to disclose their gay lifestyle, they sequestered their dark desires, sharing passion as well as their lives. Terrified to admit their needs, they all hid behind a mask. The reasons were too damning to admit – at least for one of the men.
When a horrifying accident nearly claimed Dylan's life, Cole and Brandon were given a last request, one they were unable to refuse. As Dylan's mysterious past finally became known, a serious of mysteries dragged them all into a private hell. The truth was far too damning.