Welcome to Naughty Nights Press
From today the 2nd of June until the 28th June, I will be presenting the array of books Naughty Nights Press has published by some of the most outstanding and accomplished authors in the Erotic genre.
Keep an eye out for the end of each post in case there is a contest being held. These will be held on and by the author's themselves. So feel free to ask them questions and follow them to see what else they get up to.


Today I will be shining my special little spotlight on our collection of anthologies.
A Halloween party turns into a very unusual night; a ghost whose sexual needs prevent her from passing over to the other side; a chance encounter at a mistaken location leads to many desires being fulfilled; and unusual alien and human sexual experience, in the name of research; and so much more in this kinky themed Halloween Anthology.

Open up your mind, free your inhibitions and get ready for A Wicked & Wanton All Hallows Eve!

Eight naughty Halloween-themed erotic short stories to tantalize and tease the senses while giving readers a little taste of the experimental worlds of sensually exciting tricks or treats.

"A Wicked and Wanton All Hallows" Eve" Halloween Theme Anthology Contributing Authors
The following authors have agreed to the inclusion of their work as they appear in chronological order:

Kiki Howell - A Midnight Showing
Ana Hart - Welcome To The Inferno
BL Morticia - I Dream Of Dalian
Abby Hayes - Haunted Party
Gemma Parkes - Cassandra
Sarah Bella - Triage
Kim Faulks - Inamorata
Canth? Decided - Experiment IV
Campus Sexploits
Purchase from All Romance Ebooks, Amazon and
Smashwords
Did you ever do anything in college that was considered "outrageous" by your friends? Have one amazing night with a sex god only to never see him again? Play naughty sorority games that left you breathless and yet sexually satisfied? Or did you perhaps want to join your roommate in a naughty ménage a trois?

Campus Sexploits is the first book in a series of anthologies all about the fantasy fun days of youth. Four naughty college/university themed erotic short stories to tantalize and tease the senses while giving readers a little taste of the wickedly erotic worlds these four fantastic authors can weave. Worlds of incredible earth shattering sexual freedom involving college or university students and the sexual antics they participate in. Worlds you can just feel yourself fall into...
Campus Sexploits Contributors List
Abby Hayes - Chem 101
When Sara is caught almost kissing the professor's assistant after chemistry lab, the professor makes them both a proposition they can't pass up. It sounds like a typical ménage encounter, and she is more than willing to be taught. Yet, soon her and the assistant find that the professor likes to give directions, in and out of class, pushing his students in little ways, more than they imagined he ever would.
C.M Owens - Youth and Experience
Professor Robert Archer is at the top of his field; a world leader in research, highly respected by his peers. But, when he presents his latest paper at a conference, he finds himself confronted with unfamiliar criticism from up and coming PhD student, Lucy Faraway. Initially he sees her as a naïve idealist, but he soon comes to realize she has the intellect to match her confident attitude. Smart, sassy and sexy, Lucy gets his blood pumping in more ways than one. Thrown out of his comfort zone Robert isn't sure how to act around her, but Lucy's tenacity extends beyond the realm of stages and seminars and all he really needs to do is hang on for the ride.
Willow Leigh - My Greek Week Adonis
We enter freshman year and Greek Week-End. Two girls become fast friends delving into a relationship of sorts. Emerging and wanting more is Abbie, as she takes us through life during Greek Week-End from freshman to senior year, on a journey through the sexual awakening's of a college student.
J.T. Seate - Campus Confidential
Ahhhh, the grand old days of college, when a spunky co-ed danced naked for ten college guys. Jack looks back on a vivid memory about carpeing more than the diem in this ribald confession. Kaye 'Fluffy' Wyatt was a godsend to the lads in the dormitory, especially considering they were all matriculating at a conservative bible college. When she was ready to be ridden, the horny lads quickly discovered what Fluffy was all about—more, more, and yet more rockin' 'n' rollin'. But as with most good things, there was a catch. The casually mentioned fact that Fluffy was the Dean's daughter made genitalia shrivel and graduation a crap-shoot. The romp ends with bittersweet yet fond memories of a night in the life.
Doing The Naughty List, Twice
Purchase from All Romance Ebooks, Amazon and
Smashwords
Is your name on Santa's Naughty List this year?
If you don't think you've quite made it there yet...then now is the perfect time to crawl into "Doing The Naughty List, Twice" and enjoy a Holiday Themed Erotic Ménage Anthology by the authors of Naughty Nights Press!
Tis the season of joy, happiness, giving...invitations to holiday parties...lust, kinky behavior and wicked sexual delights!
Join our eight naughty authors as they tempt and tease your body and mind with eight holiday ménage stories to add to your wish list this year!
"Doing The Naughty List, Twice" Holiday Erotic Ménage Anthology Contributors
Cassandre Dayne - Twisted Christmas
Wynter Mclean was very good at her job as a legal assistant for a prominent law firm in Baltimore. Conservative and quiet, no one knew she had a wild and kinky side. When her boss decided to kick up the heat on their holiday party making it a bit twisted she was determined to finally "come out" to her colleagues. Pining away for the two hottest attorneys in the office, not only did they not know she existed but they were in lust with each other. Purchasing a sexy outfit as required by the rather sinful invitation, she was ready for the event. Granted a glass of wine and a sex toy certainly helped ease her tension.
Cody Wallace and Daman Miller were lovers and well respected attorneys but they had a dark side that no one knew including sharing a D/s lifestyle. Longing for a third they just happened upon a rather kinky sight coming from a condo across the street and a sinful plan of magic was put to action. Enlisting the help of one elf who had rather shameless designs on the Christmas event the three engaged in a little wicked heat of their own. While the game was fun - what about the rest of the season?
Elizabeth Lister - A Christmas Masquerade
Claire Leduc has been in an exclusive relationship with Cameron Walker for several months, but she knows about his liberal attitudes toward sex. Cameron is excited to show Claire what people can do together in an environment of mutual trust and respect. He hosts and extravagant Christmas Masquerade to introduce her to three of his good friends; gay couple, Asim and Mark, and the entrancing, bisexual Jenny. With a steadying hand, Cameron guides Claire through her first experience with group sex. But Claire surprises her boyfriend and herself with how readily she adapts. She watches her boyfriend engage in sex acts with other men and participates in an erotic encounter with another woman. She then has an exquisite three-way with Cameron and another man. At the end of it all, she emerges feeling liberated and rejuvenated, and more in love with Cameron that ever before.
Jill Boyd - Stockings and Santa
Matthew and Scarlett are a happily married couple, but their seasonal bliss is haunted by the memory of the death of Scarlett's mother, on a Christmas day. So, every Christmas, Scarlett changes into a slip of her former self, mourning her beloved mother and thinking of what could have been. Matt can't take seeing his wife so glum, so he decides to give her a gift beyond her wildest imagination. Only problem is, he can't figure out what. Scarlett makes a throwaway comment about getting her either a pair of stockings or a threesome. So, Matt decides to get them both. After a phone call from Matt's friend Ben, things go into warp speed, and Ben is soon at their door, staying over for Christmas. During a night of fun and drinks, things get frisky.
In the morning, Matt is surprised to wake up to the sound of laughter on Christmas Day, and finds Scarlett in the living room, with a smile on her face. She thanks him for making her happy and hugs him. The three of them then open presents and Scarlett is delighted to find a pair of stockings underneath the tree. She thanks Matt again, and Ben calls him a 'Superman with a nice cock'. This effectively rekindles the fire from the previous night and soon, the three of them trek back to the bedroom, for a very naughty Christmas indeed.
Eden Connor - Cum, They Told Me
It's New Year's Eve and Sophie Weller had a rough year, she's been forced to sell her company Banger and Lever Optics, as she gets divorced from her steroid-using, baseball-playing husband. The public end to her marriage, following a brush with death where she and her wicked high society mother were stuck in a car that was run off the road, Sophie wants to change her life.
She's sick of chasing the next dollar, the next label, the next must-have restaurant reservation; everything her mother had taught her was important has left her feeling empty and unfulfilled. Before the ink is dry on the contracts, Sophie begins to dream of her buyer, Mathias Jackson and the lawyer she's known for years Kendall Davis Laramie III, stretching her out on the polished walnut of Davis' conference room table and giving her more orgasms in one night than she's ever had in her life.
More than Sophie gets laid out on Davis' elegant conference table before the New Year begins, as Matt and Davis not only give her the most orgasmic night of her life, but before the ball drops, they demand than a one night stand from Sophie, and the pair of them pierce more than simply her pussy.


Rowan Elizabeth - Watching in a Winter Wonderland


Holiday fantasies traipse through the voyeuristic minds of a woman and her lover. The writer, always comfortable sharing her fantasies with her new lover, Carlos, extends their conversations into actions. The woman and her lover take the experiences to new heights by inviting her best friend Jay and his lover Martha to take part in a fantasy to rock them all for Christmas. By the end of the night, the four are sated and the last words heard by any of them is one simple thought, "Merry Christmas."
Willow Leigh - Christmas At The Cabin
All Frankie wants for Christmas is for the magic that she and Ric once shared to return. Does that mean going back to the threesomes or more? As Frankie is getting ready for the Holiday Season once again, she remembers all the past Christmas' spent at Ric's parent's cabin. With those memories she can't help but wish that maybe this Christmas things could once again be as they were. Candy canes, snow, colored lights, mistletoe, a warm fire and friends to share in all their Christmas sexual fantasies with. Does Frankie get her wish?
Kendel Davi - Umoja Means Unity
Zoe and Roger have been at Los Angeles International Airport since 6 in the morning with no luck of getting a flight East due to the fact that they are flying standby during the Holiday Season. While waiting for this final flight they run into Julia and Craig. A married couple that is also flying standby they met earlier in the day. Julia suggests they get a room so they can sleep and shower before trying to get a flight out the next morning.
In the room, Roger presents Zoe with a hand carved wooden cup that is used to drink from during Kwanzaa celebrations. Zoe comments that she wishes she had a gift for Roger and he gives her a subtle suggestion, making reference to the time they hooked up with another couple in Puerto Vallarta. Soon, Zoe and Julia are making out as Roger and Craig watch. As the night presses on, lots of exploring of each person in the room takes place and new experiences are had, ending the night with fulfillment. It was a holiday spent learning about Unity.
Daddy Xmas - An Under Cover Christmas
Bisexual Amanda inadvertently introduces her hubby to her brand of kink when arriving home early one day during the end of year holidays, he finds his wife cavorting under a spread with an old college roomie. He joins them. The couple then hits upon the idea of soliciting coeds to sleep under the covers with them, claiming they expect no sex, just the warmth of the girls' body heat. Amanda and her husband know how it is under the blankets. To their surprise, tenting grows into a secret societal practice in one particular dorm at the school. In an unexpected development, the couple's clients start to pay for the experience, enabling our happy couple to quit their day jobs and modify sleeping arrangements so they could "tent" full time.
We pick up the story one Holiday Season when, as an older, retired (but not yet dead) couple they receive a Christmas card from Katie, an Irish client from the past. Then an ad appears in the local paper for tenting. Intrigued, they decide to respond and celebrate the Holidays in the old-fashioned way. To their surprise, they wind up with Katie's daughter.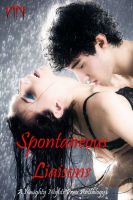 Spontaneous Liaisons
Purchase from All Romance Ebooks, Amazon and
Smashwords
From entrance to exit, this collection of titillating stories, by some of the best erotic authors, are sure to have readers browsing the nearest virtual bookstore to buy more of their spicy work!


A perfect lunchtime read. - Author J.D. Morgan
Juicy, kinky and sure to boost up your daily drive! - Mason Mallory, Hamilton Spectator
A hot read on a cold night. - Cassandre Dayne, Author
Spontaneous Liaisons - Contributors List
A Little Knowledge by CJ Black

A woman sitting alone at a bar – angry about her life and how it was turning out – just needed a little something different and sexy to change her view of things even if for only one night.

Drew, a young bartender, intends to give her a few lessons of his own.
Reinventing the Quickie, The Diary of Sam by Kiki Howell

Samantha Donovan writes in her diary when she can, and this year's new book she is starting by discussing New Year's Resolutions: her failures with them in the past and what she wants this year as a working mom with teenagers in the house. She decides it would be great to combine a few of things – like weight loss and more sex – by offering her husband an arrangement of quickies in their busy lives; sort of a sex diet she once read about.

Of course her hubby is all for the idea, but with their crazy schedules, it proves harder than they thought. So they get more creative, use their time more wisely, and even kick up the quickies with little themes.

By the end of January, things are suddenly getting sexier and sexier in Samantha's life…

Summer Rain, Fiona's Story By Vampirique Dezire

It is believed that when the winds have blown the earth dry and the sun creates an internal heat, deep within its core, that a rainstorm will come, one like nobody has seen before. During the last of summer's hot, fiery kiss, the rain will sluice over the earth's body, making love to it, allowing the heat of pent up sexual tensions to be released by those who are caught in it.

It is the last days of summer and Fiona has organized to meet up with Jake, a guy she met at a nightclub. Needless to say, Fiona's date doesn't arrive but she gets plenty of admiring glances from the men and women around her. After waiting a period of time, Fiona decides to leave the restaurant and begins to take a walk down the street refusing to let her day be ruined.

During a sudden downpour, Fiona seeks shelter on a building site and peels off the uncomfortable wet clothing.

Brant – one of the builders waiting out the storm – sees her taking off her wet clothes. As he watches her, he notices a beam about to give way just above her. Before it collapses on top of her Brant rushes in to save her. Suddenly the two strangers find themselves in the midst of making hard, passionate love...their lust and desire taking over.


Blind Date by Jennifer Stone

Expecting to be disappointed by her blind date before it even starts, Lindsey quickly finds out that he is romantic and full of passion, not to mention oozing with sexuality and the urge to be naughty. The raw intensity of their first encounter sends shocks through both of them; awakening a passion that they never knew they were capable of having.



Fast Food On Campus by Abby Hayes


Friends – working together on campus – come together, finally, hot and fast, several times, after confessing their feelings about each other. A quickie on the freezer at work, groping during the car ride home and just inside the front door of his place, are just a few of the sexy yet quick encounters Devin and Amanda have.

Promises of longer, of tomorrows are still whispered though…




Unprofessional by C.M Owens


When an actress fails to turn up for her part in a sex scene, Carrie has to choose between stepping into the spotlight or letting her friends down. But, she's not an actress; her place is behind the camera, not in front of it. Can she keep it cool with actor Jake or will things get unprofessional?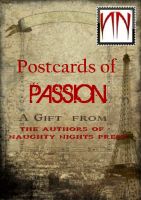 Postcards of Passion
FREE at All Romance Ebooks and
Smashwords
Postcards of Passion has been lovingly put together by fourteen writers who want to share a sample of their writing, with you, the reader.
Each story will keep you enthralled, excited and entertained. We have a little bit of everything that you have come to know and expect from authors of Naughty Nights Press.
At the end of each story, you will find a little thank you surprise from the author to you, a coupon to purchase one of their books at a discounted price, valid for two weeks only.
How fabulous is that?
You get Postcards of Passion for FREE, plus you get up to fourteen coupons to purchase the author's other books at discounted prices!
Please pass the word around to your friends so they too can download their personal copy in the digital version of their choice!
Please remember that downloading a separate copy for each person is simple, FREE, and avoids Piracy!
Postcards of Passion List of Contributors
I Like It Rough by Sherry Tooker
Joanna's Rush by Phoenix Johnson
Secret Admirer by Abby Hayes
Jeremy's Game by Ana Hart
Medieval Torture Games by Elizabeth Black
The Greek Love Story by Pablo Michaels
Toni's First Night Out by Julez S. Morbius
The Booty Call – Back Down Memory Lane by Benjamin T. Russell & Michelle Chatton
With Ménage Comes Insecurities by Rawiya
Dirty Secrets and Designer Heels by Eden Connor
The Dinner Party by Kendel Davi
The Punishment by Vampirique Dezire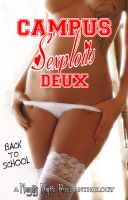 Campus Sexploits Deux
Purchase from All Romance Ebooks, Amazon and
Smashwords
Ever do anything in college or university that was considered "outrageous" by your friends?
Maybe you engaged in spontaneous, steamy sex with a "god-like" classmate you'd lusted after all year... Or found that one of your Professor's best classes - the most memorable - was hands on tutelage of the sexual kind... Or perhaps you joined your roommate in a special brand of her own kink, had a girl on girl experience, or both at the same time...
Campus Sexploits Deux is the second book in a series of anthologies all about the fantasy fun days of youth. Four naughty college/university themed erotic short stories to tantalize and tease the senses while giving readers a little taste of the wickedly erotic worlds these four fantastic authors can weave. Worlds of incredible earth-shattering sexual freedom involving college or university students and the sexual antics they participate in. Worlds you can just feel yourself fall into...
Campus Sexploits Deux Anthology Contributors List
Nicole Wolfe - Twenty Toes
When Shelley comes home early from swim team practice to find her college roommate, Alice, watching girl-girl porn and sucking her own toes, she gets to dip her toes into the pool of foot worship.
Rowan Elizabeth - Binding Dean
Sage's twenty-first birthday is not starting with the bang she hoped it would. Her older group of friends had done bar hopping to death and weren't interested in helping Sage with her first experience.
She meets up with a previous semester geography class' object of lust, built Army Ranger Dean, and the two go out to celebrate. Sage and the Soldier end up in the back seat of Sage's car and an odd request throws Sage out of the confines of her normally vanilla sex life. This is one birthday she is sure to remember.
A. L. Jones - Late Night Rendezvous
Leila is a college student at Cornell University. One night, while walking home from the library, she runs into Erik, one of her coworkers from the Green Dragon cafe. Erik offers to drive her back to her dorm, and before she knows it, Leila is hooking up with Erik in the back of his car.
Maggie Morton - Carnal Knowledge
Professor Stevens normally teaches Creative Writing, but that's only her day job – at night, she teaches an entirely different type of class. With a volunteer named Emma, and twelve attentive students, she is going to demonstrate how to properly pleasure a woman. All the men are virgins, as is Emma, so in the Professor's opinion, this class is intensely necessary.
The Professor doesn't really teach the class to help out the men – no, it's to make sure that any women they go to bed with in the future receive exactly what they're owed – amazing sex. And it's to help a young woman come into her own sexually, just like Emma does during the class. Once everyone has taken their turn, they all leave, and the Professor's favorite class is next – she gets out black, plastic gloves and puts a new sign on the door to the classroom – "Anal Fisting 101."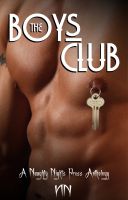 The Boys Club
JUST RELEASED!
Purchase from All Romance Ebooks, Amazon and
Smashwords
Eleven authors – twelve naughty male-on-male stories that will bring you to your knees.
Join the authors and find out just what happens – what only exclusive members are privileged to see – in "The Boys Club"
Our author's kinky characters tell all about the sexual escapades they partake of within the pages of The Boys Club in their individual gay male stories.
The Boys Club Contributors
Fanboys - Stella Harris
Room For Two - J.S. Morbius
Getting Fit - Abby Hayes
Irish Sea - Rachel Carling
Daemonic Desires - Eve
Race Day - A Boy's Club Initiation - Cassandre Dayne
A Night at San Gregorio Beach - Pablo Michaels
Opposites Attract - J.S. Morbius
Heat Of The Desert - Jill Boyd
The Night I Learned Chemistry - Garland
Panties in a Bunch - BLMorticia
The Bigger The Bill, The Bigger The Thrill - Logan Zachary
Don't miss your chance to enter!
Now if you go to Blood, Lust and Erotica, Vampirique Dezire is holding a contest today and tomorrow and will be giving away three (3) prizes.
First prize will be a copy of Spontaneous Liaisons plus a $10 gift voucher from Amazon.
Second prize will be a copy of Spontaneous Liaisons plus a $5 gift voucher from Amazon
Third prize will be a copy of Spontaneous Liasions.
So be sure to put your entries in and see if you are one of the winners!